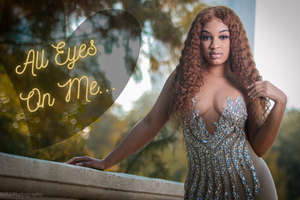 ✨WELCOME TO JGABRYELLE DESIGNS✨
JGABRYELLE IS LUXURY FASHION BRAND THAT SPECIALIZES IN THE MOST EXQUISITE AND GLAMOROUS DESIGNS, THAT WILL TURN HEADS AT ANY EVENT! CHOOSE FROM OUR SELECTION OF UNIQUE DESIGNS OR A CUSTOM PIECE FOR YOUR BIRTHDAY, PROM, OR ANY OTHER SPECIAL EVENT. OUR TOP PRIORITY IS TO MAKE YOU FEEL AS GOOD AS YOU LOOK ON YOUR BIG DAY! ALL EYES ON YOU!✨
"DRESS SHABBILY AND THEY REMEMBER THE DRESS; DRESS IMPECCABLY AND THEY REMEMBER THE WOMAN."
-COCO Chanel
↓ Shop JGabryelle NEW DESIGNS ↓
Testimonials
I didn't know how I wanted my birthday dress to look, so I let JGabryelle freestyle. Everyone LOVED my dress, it was so bomb and the quality was AMAZING!! Definitely will be booking again!

Kayla S.
Gigi is so helpful and is GREAT at what she does! She walked me through every step of the process and answered all my questions! I have NO regerts choosing JGabryelle! I highly recommend them for your prom dress needs!

Brittany G.
I ordered a dress from another designer who didn't pull through. With only 2 weeks till my event, I came to JGabryelle last minute. Not only did I receive my dress in time, I got sooooooo many compliments and it turned out so much better than my original dress! JGabryelle is a lifesaver! Will be booking again!

April B.
↓ FOLLOW AND CHECK US OUT ON INSTAGRAM! ↓
DONT FORGET TO TAG US IN YOUR BOMB PICS TO BE FEATURED ON OUR PAGE!! #JGABRYELLE